Purpose / Objective
Sentry AI is guided by three principles: accuracy, efficacy, and ease-of-use. To that end, Sentry AI has taken the position to integrate with existing systems instead of requiring customers to rip and replace existing hardware. We deliver cost-effective solutions by optimizing our computer vision techniques, allowing us to meet accuracy requirements without requiring continuous processing of video feeds. Sentry AI boasts a set of advanced (patent pending), automated image & video analysis tools. These tools provide for the immediate detection and extraction of events and valuable data from surveillance footage, replacing the manual and time-consuming tasks traditionally employed to monitor live video feeds. By employing Sentry AI, users can make optimal use of their surveillance systems and allocate their time and attention in a more effective manner, thus increasing the return on investment in the surveillance system.
RELIABILITY: SaaS solution built on AWS & Google Cloud delivers proven scalability and reliability.
FLEXIBILITY: Integrates with existing infrastructure. No rip and replace of software or hardware.
ACCURACY: Reduces more than 85% false alerts.
AUTOMATED SETUP: Able to activate Sentry AI for standard IP cameras in just 5 minutes.
ROBUSTNESS: Rain, wind or snow… our computer vision continues to deliver superior results.
REAL-TIME VET COST EFFECTIVE: Provide real-time alerts with more than 85% reduction in false alerts. We use techniques that don't require continuous streaming, thus reducing high infrastructure costs.
Sentry AI leverages existing surveillance systems
Sentry AI integrates with the leading video management solutions and cameras.
Sentry AI integrates at many levels from the camera feeds to the Agent desktop. We have the following integrations and can quickly build new connectors when needed.

Sentry AI Real-Time Detections and Alerts
Sentry AI delivers high accuracy real-time event detections, eliminating the need to rely on the alertness or response discipline of Operators. Users define potential events of interest in advance and receive alerts when such events occur. Transform video surveillance from "Operators trying to watch for events to happen" to "Operators responding to events that matter".
Detect a wide range of events relating to people, vehicles and static objects.
Get priority alerts when suspicious behavior occurs such as a crowd is running, or there is an armed robbery, or someone has fallen.
Customer Portal
In order to get a holistic view of Sentry AI technology, users will also have access to the Sentry customer portal. The camera dashboard is seen below. The user gets statistics and access to how events are being processed.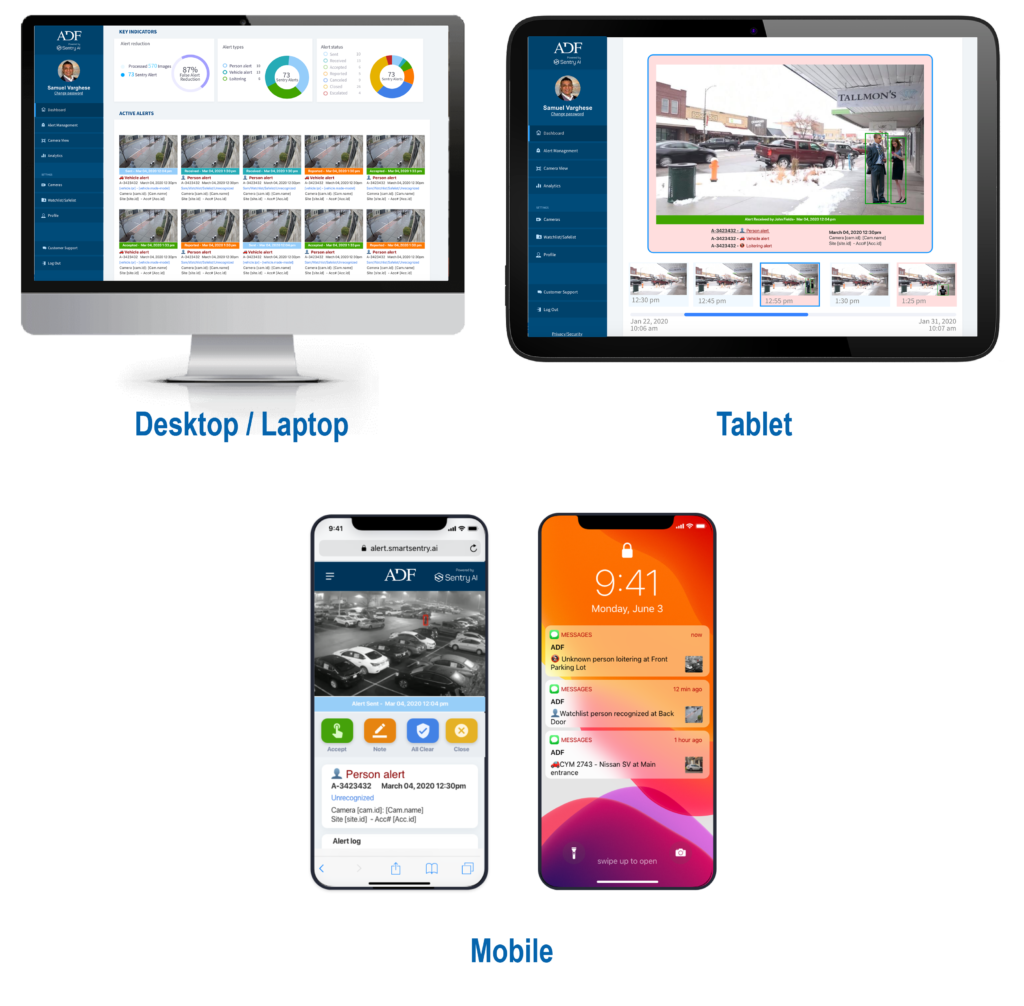 SMART VERIFICATION: VIDEO VERIFICATION USING AI

Person or vehicle detection
Day or night. Outdoors or indoors. All weather. Any lighting.
Annotation
Outlines for objects of interest with colored boxes to capture
Alert delivery options
Alarm management software, VMS, Email, Text/MMS
SMART DETECTION: REAL-TIME VIDEO DETECTION

Including all SMART VERIFICATION FEATURES

Person recognition
Facial Identification. Who is currently in the building, who left.
Statistical reports
Count targets (people/vehicle). Crowding (people). Daily reports.
Camera health
Malfunctioning. Blurred images. Obstructed. Spray-painted.
INTEGRATION PARTNERS

Cameras
Day or night. Axis, Hikvision, any ONVIF camera.
Video Management Systems
Milestone, Blue Iris, and others upon request.
Video Alarm Management
SureView Systems